Punch Harder, Faster, and More Effectively eBooks:
1) Knockdown Punches …
Are you looking for one exercise that will add a significant amount of power to your punches after each and every practice session?
This may look similar to other punching exercises, but it's not.
Follow the instructions to the letter, and you'll see a difference after your first practice session. And YES, it does come with a money-back guarantee.
This is not a complete punching system, just one set of exercises to help you to get powerful punches from a short, non-telegraphed distance.
Now only $5 ……  Order Knockdown Punches Now!  (23 pages)
---
2) The Punch Sampler …
---
3) End the Fight with One Hit …
"If I didn't have time to train someone for at least a year, then this is the information that I would want them to have."
No long and drawn out fights here — if someone attacks you, you want it over quickly. This means that you can't rely on the same ol' same ol' to help you end the fight. Right?
You need tactics and techniques that work. Period.
As usual, this ebook (package) comes with a money-back, satisfaction assured, guarantee.
Download How to End the Fight with One Hit ($20)
---
4) Control Your Fear: A Guide For Martial Artists …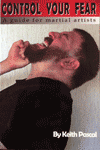 Originally, Control Your Fear was packaged with End the Fight with One Hit. After all, you'll never handle yourself adequately, if you're frozen in fear. (I know this from experience.)
Now, we're proud to offer it as a stand alone offer … or with End The Fight, for combined savings.
If you want to end all martial-arts-related fears … the fear of fighting, the fear of hurting others, the fear of specific weapons, and even fears in a martial arts dojo … then you NEED this ebook and its bonuses.
Download Control Your Fear: A Guide for Martial Artists
Combine and Save: Download Control Your Fear AND End the Fight with One Hit … and receive a total of 6+ ebonuses that really do make a difference. Read More …
---
5) The Punch Papers (out of print) …
First came the punch articles. Next, we saw The Punch Papers v1.0. In the mid 2000s, version 2.0 hit the Net.
Now, photos have been added, over 20 new lessons and drills, and finally we have The Punch eCourse (see below). The Punch Papers, however, is now out of print.
Now, loaded with photos, new chapters, new lessons, new drills …
---
The Punch eCourse Available in Separate Volumes or Save on the Combined ePackage …
6) The Punch eCourse — Volume One: Punch Fundamentals for Both Beginners and Advanced Martial Artists
It's amazing how many advanced martial artists could improve their punches and strikes with a simple adjustment of elbow position, timing, etc.
Whether you're a novice, an intermediate practitioner, or an advanced fighter, you need these lessons, to make a difference AND to incorporate the rest of your course into the way you punch.
Download Volume One Now:
---
7) The Punch eCourse — Volume Two: Developing Super-Fast Punch Speed
Have you ever dreamt of developing incredible punch speed? Super speed?
Each and every lesson in Volume 2 will get you punching significantly faster … and some will give you a power boost, as well.
If you really want to be faster, then you'll have to go beyond the dojo or boxing ring. Take your training to the next level and control your improvement….
Download Volume Two, now:
---
8) The Punch eCourse — Volume Three: Develop Incredible Punch Power
While this isn't the last word on developing awesomely powerful punches, it's certainly a hundred times better than the Youtube advice out there. (Many of the power punch how-tos on Youtube will have you telegraphing your punches ahead of time. You'll never be able to hit anyone. Ugh.)
These exercises are different. They are better. Period.
Download Volume Three now:
---
9) The Punch eCourse — Volume Four: All About Defensive Punching
What — you aren't a bully?
Then you'll have to punch while DEFENDING yourself. This volume teaches you a more efficient way of responding to the attacks of others. After all, you want your improved punches to work, right?
How would you like to be able to respond to a punch with a better punch of your own?
Download Volume Four, now:
---
10) The Punch eCourse: Volume Five: Punch Strategies for Martial Success
If you have ever had problems getting in on the enemy with your punches, then you may need some better, more effective strategies. While some may think that all you need is speed and power, the more advanced fighters know that there's a lot more to winning a fight than just those two variables.
Here's the way to use your newfound speed punches and power hits to win … to survive.
Download and Develop Martial Strategy Success Now (Volume Five):
---
11) The Punch eCourse: Complete Set + 3 eBonuses …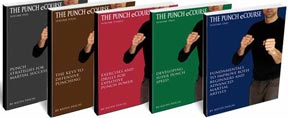 The only way to get some of these bonuses (there are actually more than 3) is to order the entire set.
Did you know that so far, 99% of the eCourse purchasers own the entire set?
There's a reason why.
Download The Entire Punch eCourse now (Combine and Save):
---